Rich Color Printing – Your First Choice in Scratch Card Manufacturing
Guangzhou Rich Color Printing Co., Ltd is one of the leading scratch card manufacturer based in China and serving the whole regional and international market with its online services. The company is famous for its quality and fast delivery printing services. With a turnover of than 80 million cards per month, Rich Color Printing is serving its clients with the top of the line and quality services with personalized design and printing.
Rich Card Printing is proud to serve its clients with competitive rates and quality design for scratch cards printing services. It surpasses its competitors with its unique quality, design, printing, standards and security features, giving a competitive edge to its valued clients in product marketing campaigns. Scratch card and award promotions are incredible tools for marketing creating buzz and excitement among the consumers for the business brands.
Scratch cards an excellent way for a business company to market its presence increase customer base by using unique and colorful personalized scratch cards. These cards can be used as top-up cards, lottery cards, scratch-n-win campaign cards and various other direct marketing methods to promote your brand. Rich Color Printing offers following unique features to its clients which are an endorsement to its commitment towards providing best services to its clients.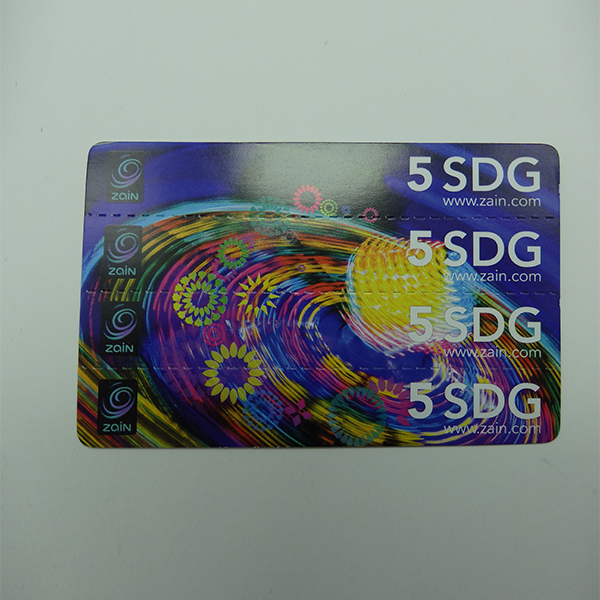 1. Security features
Rich Color Printing offers its client the security features they need in printing products and their data security. Providing the latest anti- fraud and anti theft techniques to ensure client safety standards.

2. Advanced Printing techniques
We use the latest UV inkjet printing powerful machines to provide our clients the best quality and fast delivery.

3. Quality printing and services
Rich Color Printing uses top quality control standards in its workflow and professional and well-trained team carrying out all the work in a streamlined and standardized manner.

4. Internationally Certified for Quality Standards
Rich Color Printing Co is internationally certified for its standardized procedures and internal workflow. SEDEX, ISO 9001 and ISO14001 certifications are an endorsement to its commitment to quality and standards.

5. Vast experience in printing services
Working since 2005 in the printing services business, Rich Color Printing is proud to serve its broad customer base and wide range of clients relating to every business field.

6. Quality Printing Materials
RCP is committed to provide a wide array of options to its clients related to printing material. Weight, thickness, stock, shape and material substrate can be chosen as desired by the client requirements.
RCP commitment to proudly serve its new and permanent clients is unshakeable and top most priority. This is the main reason RCP is far ahead of the other scratch award cards suppliers in terms of business and client satisfaction ratio.
Customer trust and retention is the biggest award which encourages us at RCP to go an extra mile and serve our customers in a better way every time they entrust us with their printing needs. We are committed to safeguard customer interests and data with our secure in house processes and in time delivery with international and national logistic facilities.
Want to know about scratch card solution, please click.